Frankenstein Arts and Crafts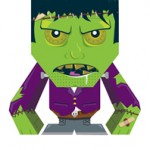 There are a number of Frankenstein related papercrafts available online. The patterns can be downloaded as pdf's and instructions are included.
Macula has a blockhead Frankenstein papercraft model available. Halloween Burg Frankenstein, a German site, offers a realistic Frankenstein mask and One Sheet's Not Enough has the pattern for another blockhead Frankenstein model.
Frankenpaper offers the FrankenPaper Paper Model Bust and Homespun Magixx offers another version of Frankenstein's Monster.
I've discovered that papercraft is fairly popular – I had no idea – and that there are a number of patterns for Frankenstein's monster.