Mary Shelley Encyclopedia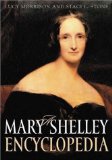 Well, call me clueless. I didn't even know such a book existed and it's been out for almost 7 years. I guess that's what happens when you abandon your research for a decade.
I would love to add to my Mary Shelley and Frankenstein collection but it's bit pricey. Maybe it's something to save up for. It is, however, available through Scribd, which you can peruse below but it's still not the same as having the book in hand.
It's an actual encyclopedia created for Mary Shelley scholars and is a comprehensive listing of ALL subjects related to Mary Shelley's life and her novels.
What's cool about the scribd version is that it is searchable.
I've also discovered that it is available via google books. It's the same version but it doesn't have the same embed capabilities.